At the Festival of Sensuality we invite a range of talented teachers with deep experience in their fields to run workshops on things like body awareness, sexual dynamics, communication, dance, massage and more.
And one of the unique features of our festival is that we also invite participants to share their knowledge and experience by proposing a workshop, circle or activity that they feel would enrich the event.
There's a giant workshop board where events can be added and so at any given moment there are usually at least 3 different things going for you to choose from.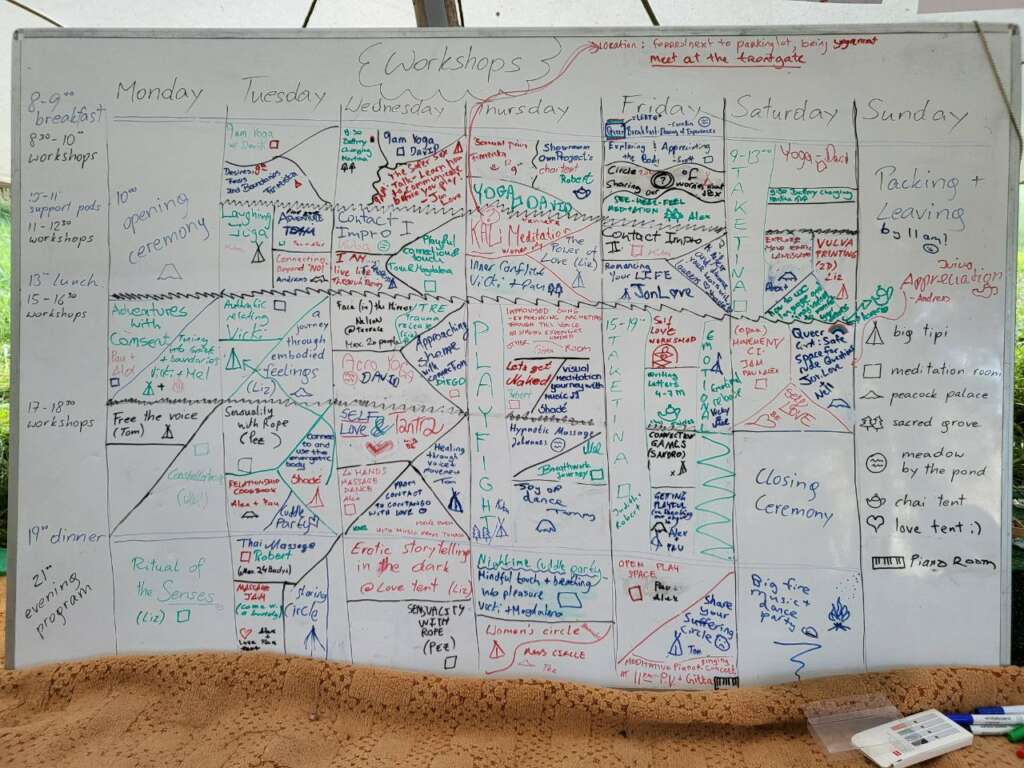 Here some of the titles of the workshops that we had going on in 2022:
yoga – breathwork – romancing your life – sensuality through rope – freeing the voice – acroyoga – 4 hands massage – mindful touch – erotic storytelling – relationship cookbook – hypnotic massage – playfight – contact improv – the joy of dance – vulva printing – sensual pain – Kali connection – safety in sex – queer Q&A – taketina – writing love letters – nighttime cuddle party – approaching shame with connection – explore your erotic landscape – ritual of the sense – face in the mirror – exploring & appreciating the body – end of week play party…
This means that you, too, can propose to run a workshop or activity and there's a discount on your ticket if you do 🙂
It's not that every participant who runs a workshop is an expert in what they do, of course, it's more about people sharing their experience and inspiration, and learning from one another as a community.
The workshops are in English and last between one and a half and two hours and in any given day you'll have time to go to 4 workshops or activities. You only take part in the sessions that interest you  and the rest of the time you're free to chat in the tea tent, swim in the lake or stroll in the forest.
Support pods
The workshops can bring up a lot of emotions, a lot of challenges, a lot of interesting questions and we don't want you to be alone as you go through these. So we arrange support pods of 4 or 5 people and every day you'll meet to discuss, share and chat about all that's happening with you at the festival.
The support pods really bring us together as a community and so they happen every day after breakfast.
Mealtimes
We make all the food for everyone on the festival – it's vegan and very tasty! We eat twice a day in a circle, sitting on the ground and you bring your own plate, spoon and cup. Lunch and dinner is also when we take advantage of having the whole group together to announce workshops, news and general festival guidance.
So here's how your day might look:
7.30 a.m. – go to morning yoga or else the tea tent in search of your coffee fix
8.30 a.m. get some breakfast
9 a.m. – time for support pods
10 a.m. – go to the authentic communication workshop
1 p.m. – lunch! Go sit in a circle and make some friends while you eat
3 p.m. – go to the sensual dance workshop 
5 p.m. – go to the intro to rope play workshop
7 p.m. – have dinner under a sunset sky
9 p.m. – go to another workshop or talking circle or cuddle party or dance and sing around the fire
midnight – chat in the tea tent and suddenly realise you only have 7 hours until morning yoga begins……