The heart of the Festival of Sensuality are the workshops led by teachers that we invite and guests who come with their own knowledge, experience and skills to share.
Here are some of the teachers who will be running a variety of workshops: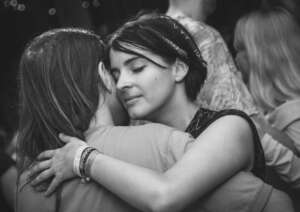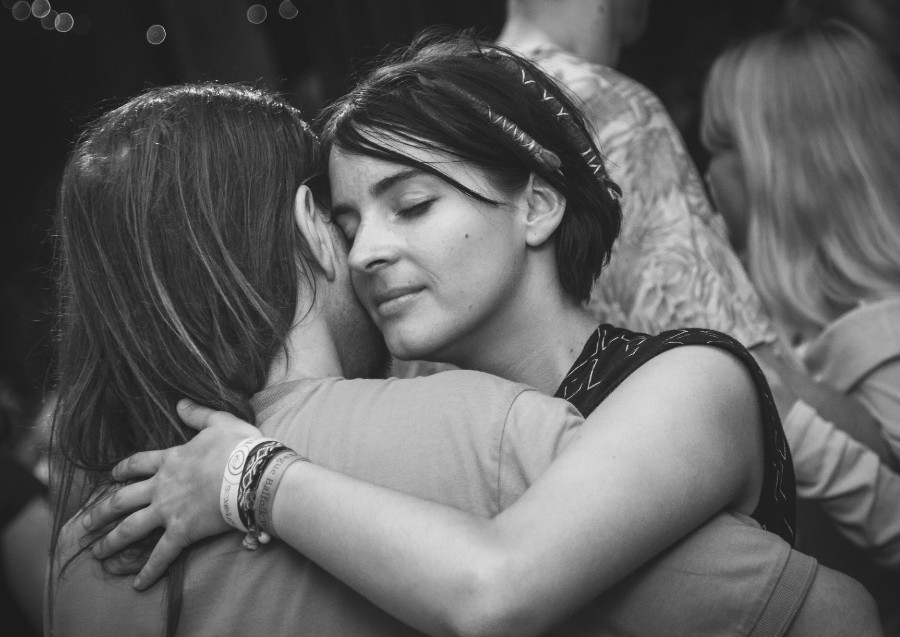 Liz Denner
Liz is the host of the festival and will be leading workshops on learning to feel sexy in one's own movement, exploring relationship styles and tantra for beginners.
As a qualified sexologist she will also be leading a session on female genitals and will host an open Ask Me Anything forum with anonymous questions to debunk many persistent myths surrounding sexuality.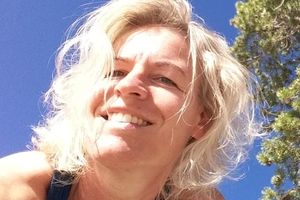 Mel Prayon
Mel's attitude is shaped by her love for people, her empathy and a deep desire to open spaces for genuine encounters with herself and others. Flowing with the group dynamics, spirituality without losing your grip on the ground, open-hearted and honest communication and authenticity are particularly important to her.
Mel will be leading workshops on family constellations, intuitive massage and bodywork as a tool for relating to oneself and others.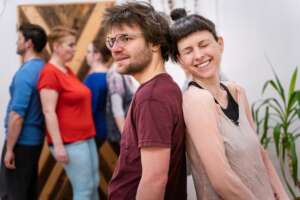 Jakub Rajtmajer
Jakub will be running sessions on contact improvisation dance, inviting us to share our weight and balance, and discover what it's like to go on a physical journey with a partner where neither is in control, only in touch.
He will also be introducing us to playfight, a forum where we can engage with our strength and power whilst honouring our opponents.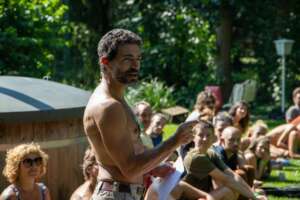 Alessandro Pedori
Bringing tools  from contact improvisation, massage (thai, deep tissue), partner acrobatics, mindfulness and yoga, Alessandro will be teaching us how to give and receive the perfect massage within the context of conscious consent.
He will also touch be running workshops focused on embodiment, moving, relating, consent, emotions, and how to engage with all of that in a playful, creative way.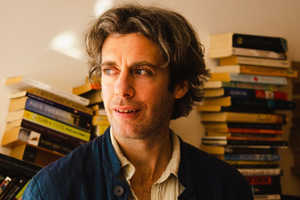 Tom Thumb
Tom will be running sessions on the sensual voice as it connects to our bodies and emotions. When we sing, scream or sigh, we express ourselves in tones and harmonics that go beyond words.
He will help us discover how  we sound when we're not in control, mining sensations and memories, seeking expression of all the aspects of our selves.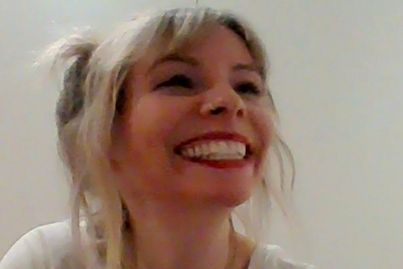 Victoria Kirby
Vicki is a sex & relationships & internal family systems therapist. She creates playful, compassionate spaces where people cab be their most authentic and messy selves. She also loves talking about sex & relationship diversity and supporting LGBTQIA+ folk.
She will be helping us discover where our sexual desires and tastes originate, what values and beliefs we hold concerning them, how we give and withhold permission for our sexual selves to express themselves in intimacy.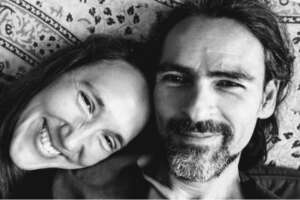 Judith & Robert
Judith and Robert will offer Taketina-rhythm-journeys. Your body will be your instrument – steps, claps and voices will create patterns of movement enabling you to intuitively experience multiple layers of rhythm.
Through rhythm we will dive deep into the here and now, exploring inner landscapes, perceiving groove with all our senses. Come as you are – tired or wide awake, tense or relaxed, joyful, moody or sad – there will be space for all those parts of you.
Other workshops
And at the Festival of Sensuality, the participants are also  invited to teach and share what they know.
What does this look like?
There's a big workshop board and everyone can write on it what kind of workshop they want to lead – anything from tai chi to belly dance to massage to a sharing circle on gender roles. While the focus is on the body, sexuality and relationships, you're free to make a workshop on anything that you feel motivated to shared with the festival community.
There will often be a couple different workshops going on at a time – all in English-  so you'll need to go along to the workshop board each day and make some hard choices 🙂
You can go to up to 4 workshops a day and each lasts about an hour and a half. Here's how your day might look:
8am – crawl out of your bed in search of coffee
9am – go to do yoga among the flowers
11am – join the Wheel of Consent workshop
1pm – have lunch in a circle in the sun
3pm – go to the 'connecting voice with emotion; workshop 
5pm – go to the contact improvisation dance session
7pm – have dinner under a sunset sky
9pm – attend the circle on understanding sex in relationships in the big tipi
midnight – stroll back across to the fire to sing and dance before realising you really should head back to your tent if you want to go to that naked forest walk in the morning…
We will also be inviting a selection of workshop leaders who will be teaching things like yoga, dance, freeing the voice – practices that help us connect with our feelings and our bodies. There will also be facilitators leading sessions on topics like body positivity, the nature of sexual desire and authentic communication in intimate and emotional relationships.
You don't need to be an expert to run a workshop at the festival, it's more about sharing your creativity, your inspiration and opening a space for others to take part in something new.
You only take part in the workshops that call you and the rest of the time you're free to chat in the tea tent, swim in the pond or stroll in the forest.